Top Rated Personal Injury Lawyer
Born in the Bronx, New York. Admitted to practice, New York State and the U.S. District Courts, Southern, Eastern, and Northern Districts of New York. Education: Fordham University, Pi Sigma Alpha; New York Law School Member; New York State Bar Association; New York State Trial Lawyers Academy; New York State Trial Lawyers Institute, Columbian Lawyers Association. Practice Areas: Personal Injury including Motor Vehicle Accident and Premises Liability; Products Liability; Medical Malpractice; No-Fault Asset Recovery; Health Law; Property Damage and Insurance Litigation.
Greg La Sorsa has distinguished himself as a trial attorney in the field of personal injury and medical malpractice, first developing his skills at the prestigious Garbarini & Scher, where he was mentored by some of the top trial attorneys in New York City.
Greg successfully tried a number of defense cases to verdict, including a well-publicized medical malpractice case involving a television celebrity and a plastic surgeon. As a plaintiff's attorney, he has successfully tried numerous cases and has obtained multiple million-dollar verdicts and settlements on behalf of clients, including the first million-dollar verdict in Dutchess County, New York. He was recognized as having one of the top jury verdicts in New York State in 2018 by Top Verdicts. He is known for his passionate and empathetic representation of clients. Greg founded La Sorsa & Beneventano in 1995. He is an experienced litigator who is at home in the courthouse as well as behind the scenes.
LaSorsa & Beneventano also play a major role in the field of No-Fault Asset Recovery, recovering on over $40,000,000.00 of unpaid no-fault insurance claims on behalf of medical providers.
Greg is currently on the Planning Board for the Town of Lewisboro and has run a campaign as a candidate for Lewisboro Town Board. He and his wife Diana have four grown children and two grandchildren, including a son who is an Assistant District Attorney in Manhattan and his youngest son, who was an All-American pitcher at St John's University and is now with the Tampa Bay Rays.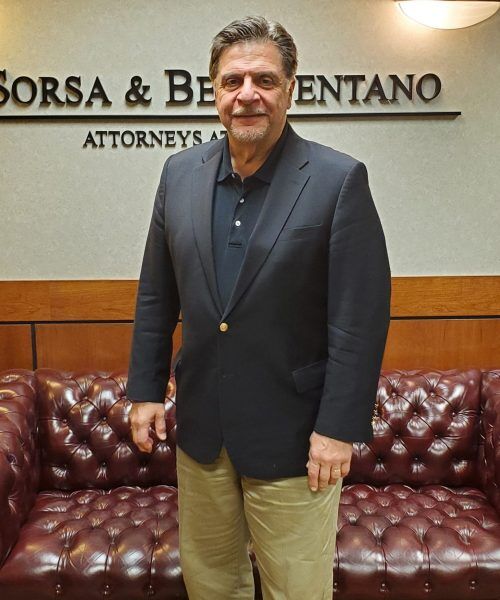 Education
Fordham University (B.A., 1979) Pi Sigma Alpha
New York Law School (J.D., 1982)
Experience
New York State Bar Association
Insurance and Negligence law Association
Defense Association of New York
Columbian Lawyers Association
Areas of Practice
Health Law
Personal Injury
Motor Vehicle Accident
Premises Liability
Commercial Litigation
Construction Litigation
Environmental Litigation
Professional Liability
Medical Malpractice
Diet Drug
Property Damage
Insurance Litigation